Our artists' short films have been selected for the international competitions of Vienna Shorts, held from June 1–6 2023 in Austria. The selection of FIDO Fiction & Documentary International Competiton includes Hanna Hovitie's Square the Circle (2023), Anssi Kasitonni's Le Saboteur (2022), and Milja Viita's Delight at Robert St. (2023, in featured image). Pink Twins' The Transient (2023) was selected for AA Animation Avantgarde International Competition.
Hanna Hovitie's Square the Circle is a short round film about how to be a circle in a world of squares. Place: Two-dimensional space. Time: Not applicable. A circle is the set of points in a plane that are equidistant from a given point, the center of the circle. A circle symbolizes infinity, eternity, totality and perfection. And yet, a perfect circle doesn't exist. Square the Circle is a little circular film about one person's round trip out to the (un)known universe and into themselves, in search of a sense of belonging. To "square the circle" is an attempt to do the impossible: look into infinity, accept the perpetual passing of time, survive a long dark winter in the Northern Hemisphere or find one's own place when you don't quite fit in. To be a circle in a world of squares.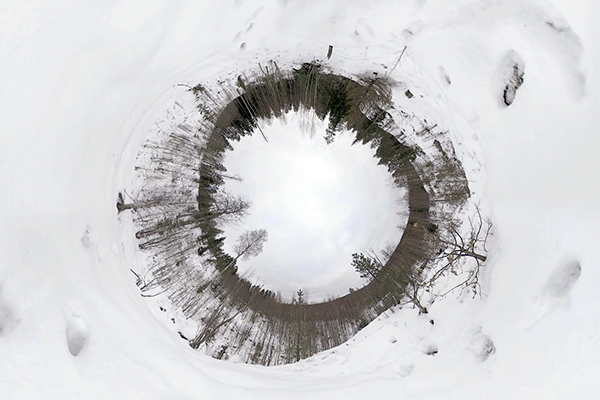 In Anssi Kasitonni's Le Saboteur, an ex-saboteur gets back in the game and every trick will be exposed! A short action film about the joint adventure of indie filmmaking – with all the special effects.
Milja Viita's Delight at Robert St. is a visual poem about the everyday moments that shape our lives. Buddy, an old stray cat in Toronto, had managed to conquer a small territory of his own in the city center. The filmmaker met Buddy's gaze every time she went out. She befriended her neighbor and captured his last autumn with her old 35mm hand cranked movie camera.
Pink Twins' The Transient captures that fleeting moment when you question what you are seeing, when uncanny valley takes over and when harmonious wildlife is revealed as a monstrous result of cloning and obsessive manipulation of nature. Or the moment when you ignore the lure of the real and give in to the overwhelming beauty of growth, the blooming of spring and the glow of midsummer night. Real, based on a true story, artificial, imaginary, a natural paradise, an apocalyptic corruption of nature. The Transient is all of these things and more.
---
Vienna Shorts, June 1–6 2023, Austria
More information: Vienna Shorts
---
AV-arkki has promoted and distributed Finnish media art since 1989. AV-arkki's promotional efforts have made the artists' participation in this event possible.