The 51st Tampere Film Festival will be held online between March 10 and 14. The film programme will be available for the audience during 10–21 March on Festhome TV platform. The oldest and largest short film festival in the Nordic countries is AV-arkki's main associate in Finland. A total of 7 works by AV-arkki's artists were selected for the National Competition. This year, AV-arkki presents a retrospective of Sasha Huber and Petri Saarikko and a screening of antiracist and anti-colonialist short films.
Sasha Huber & Petri Saarikko
Anticolonialist, antiracist and communal practices are present in this retrospective screening, which is a cross-section of the different projects by the artist couple Sasha Huber and Petri Saarikko. The online festival will also host an artist talk with Sasha Huber and Petri Saarikko, interviewed by Tytti Rantanen, the programme coordinator of AV-arkki.
The screening starts with I Love JaNY (2010), Sasha Huber's short documentary film on her aunt, supermodel Jany Tomba, who at an early age, in the 1960s, experienced what it is like to emigrate with her family from the dictatorship in Haiti to New York. Haïti Chérie (20111) is Huber's respond to the 2010 earthquake in Haiti.
Huber's long-term "Demounting Louis Agassiz" project is presented by three short films: Louis Who? What you should know about Louis Agassiz (2010), Rentyhorn (2008, in featured image), and KARAKIA – The Resetting Ceremony (2015). They works both inform about the racist legacy of the scientist Louis Agassiz and ritually rename places named after him.
One of Sasha Huber's and Petri Saarikko's artistic collaboration is Remedies series, shot during several years on different continents. The artist duo sets up workshops for local communities for sharing and searching of remedies and treatments conveyed in oral traditions. Two of the collectively authored shorts are screened at Tampere Film Festival: Remedies – Remedies (2015) and Remedies – Rongoã (2016) have both been shot in Australia and New Zealand. The screening ends with Huber's and Saarikko's short film Black Lives Matter (2017), a performance on non-violent penalty.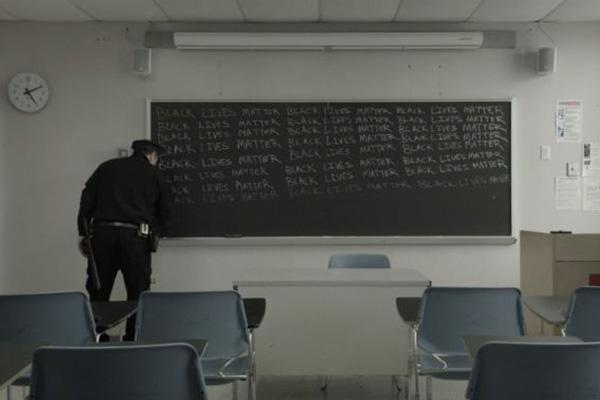 Freedom to Move – anti-racist and anti-colonialist shorts from AV-arkki's archive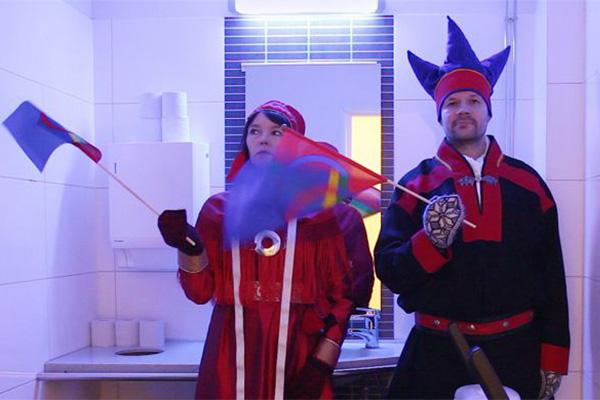 In addition to Huber & Saarikko retrospective, we present a second collaborative screening at Tampere Film Festival. Freedom to Move is a showcase of recent artists' moving image works dealing with racism, colonialism, inclusion, and exclusion.
Marja Helander's Rovaniemi 50 cnt (2014) is a humouristic vignette on the exploitation of the indigenous imagery in random contexts. Elina Oikari's Hotel President (2018) opens a multifaceted view to a centrally located four-star hotel in Berlin that is currently used to accommodate asylum seekers.
Anna Knappe's and Amir Jan's Sham Marriage (2017) looks at multicultural relationships through the artists' own relationship, and by exploring representations of love through wedding-related imagery. Sepideh Rahaa's In Transition (2017) is a poetic and metaphorical approach to the concepts of migration, womanhood and resistance intertwined with identity and dreams through the act of knitting together an indirect dialogue between two women who have never met.
Miracle Workers Collective's film work The Killing of Čáhcerávga (2020) is a collision of five different short films that, together, tell a disjointed, communal narrative. Employing a call-and-response strategy, the film expresses a politicised dialogue around indigeneity, movement, and migration in contemporary Europe.
Seven shorts by our artists in the National Competition
This year, the National Competition of Tampere Film Festival includes seven short films by our artists. Risto-Pekka Blom's Please Leave a Message After the Tone (2021) will be screened in National Competition 8. National Competition 9 includes Arttu Nieminen's Luhtahuitti (2020), Marja Helander's Shelter (2020), and Marjo Levlin's Ellipsis (2020).
Mika Taanila's Patent No. 314805 (2020) will be screened in National Competition 10. National Competition 11 includes Liinu Grönlund's and Okku Nuutilainen's Observe These Words (2021) and Anni Puolakka's From the Heart (2021).
Our artists works in other screenings
Short films by AV-arkki's artists can be found in several other screenings at Tampere Film Festival. The thematic programme HUMANITY includes Hanna Arvela's allegoric short film Veera (2016) which will also be screened in the opening ceremony, Harri Larjosto's Inheritor (2017), and two animation classics: Niina Suominen's A Finnish Fable 2011 (2011), and Milla Moilanen's Wanted (1998).
In addition to the National Competition, Marja Helander's new short film Shelter will be screened in the opening ceremony and in Sami Filbma screening.
Awarded last year at Tampere Film Festival both with Risto Jarva and the audience award, Minna Rainio's and Mark Roberts' To Teach a Bird to Fly (2020) will be screened in the European Audience Award screening.
---
Tampere Film Festival, March 10–14 2021, online
More information: Tampere FF
---
AV-ARKKI HAS PROMOTED AND DISTRIBUTED FINNISH MEDIA ART SINCE 1989. AV-ARKKI'S PROMOTIONAL EFFORTS HAVE MADE THE ARTISTS' PARTICIPATION IN THIS EVENT POSSIBLE.